Released on
June 7, 2014

(made free on

June 19, 2015

)

Download Allied Defense – WW2 campaign, co-op, and versus. For those with less powerful computers, we have also produced a versus mode that has less graphic quality but still works with the regular versus build. This special low-quality version is available for download here.
Gameplay (1080p)
In the case that the game does not detect your current DirectX installation, please install the
DirectX End-User Runtime Web Installer
.
Multiplayer VS
The Multiplayer VS mode consists of 2-8 players. The competition is to get the most frags in a 3-minute period. Competitors can use pistols, machine guns, or sniper rifles.
Multiplayer Co-Op
The Multiplayer Co-Op mode consists of 2-4 players. The goal is to occupy the space behind the burnt-out shed. However, it might quickly turn into a competition to get the the shed first, while simultaneously eliminating your opponents. This game mode is the most free-for-all, with all players using machine guns.
Summary
Allied Defense – WW2 is a first person shooter. Released on June 7, 2014, the game includes a variety of weapons, ammunition, and terrain. It builds off of Need for Gun 3's commands, so you won't have to relearn the controls. There are, however, new controls! You can peek left and right as well as capture video in-game, with or without the HUD. Another new addition is the ability to be a squad commander! Using the built-in radio function, you can send several different messages to your teammates, whether they happen to be bots with smart AI, or real people playing with you.
Controls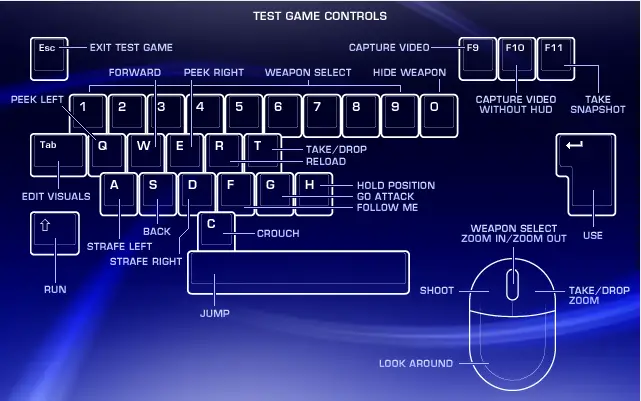 Movement
W + S – Forward + backward
Q + E – Peek left + peek right
A + D – Strafe left + strafe right
C – Crouch
Left Shift – Run
Spacebar – Jump
Mouse – Look around
Weapons + Items
T – Take/drop
R – Reload
Left Mouse Button – Shoot
Right Mouse Button – Take/drop OR Zoom
Mouse Wheel – Weapon select OR Zoom
Enter – Use
1, 2, 3, 4, 5, 6, 7, 8, 9 – Weapon select
0 – Hide weapon
Radio
F – Follow me
G – Go attack
H – Hold position
Media
F9 – Capture video
F10 – Capture video without HUD
F11 – Take snapshot